MUSIC | FILM | TELEVISION
FOR THE ENTERTAINMENT INDUSTRY
| | |
| --- | --- |
| Posted on October 10, 2017 at 10:45 AM | |
Listen Up Britain:London Semi Final is set to wow audiences at BIRTHDAYS!
Listen Up Britain & Australia amassed over 700 entries this year and this will be your first chance to hear the Top Ten Semi Finalists from Southern England and Wales play their songs live.... and we're excited that BeX has made the TOP TEN for the London Semi Final with her song 'Every Child Has a Voice' which shares the awareness of the theme 'Being Heard' supporting the charity CALMzone.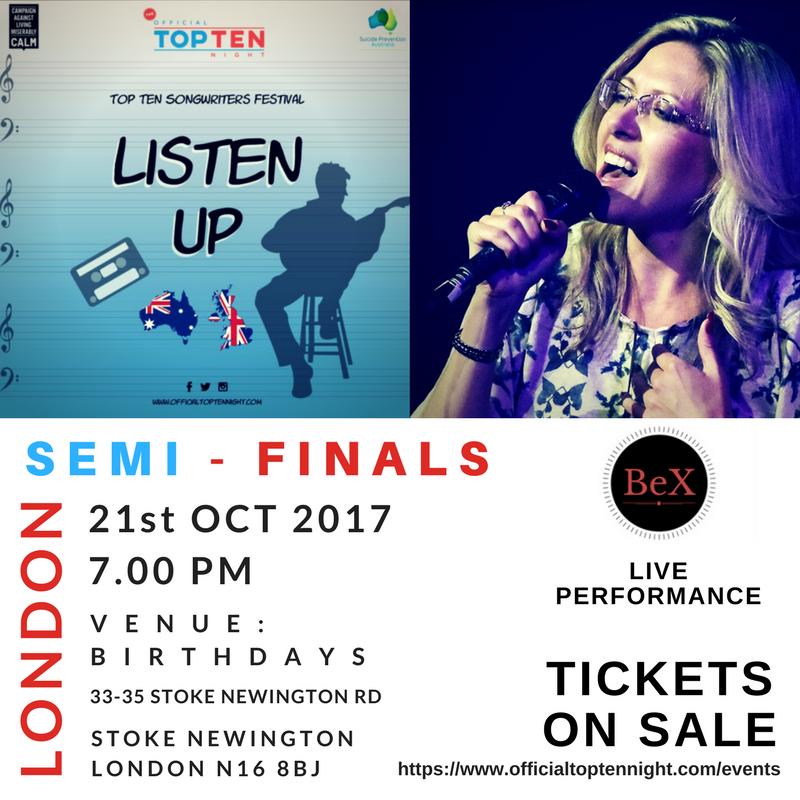 Performing their entry, live on the night, will be:
Ben Wheatley, BeX, Daisy Oracle, Drowning In Shadows, Jasmine Power, Leon Helsby, Liam Merrigan, Nadia Rae, Steven Bryan and This Human Condition.
Each song will be performed in front of the expert music industry panel of: Members of Daxx & Roxane, Julie Bateman and Vick Bain (BASCA).
The judges will rate the songs and the Top 5 songs will go through to the London Grand Final, on Saturday 9th December, where they will be performed live once more.
This years theme is "Being Heard" and the event proudly supports The CALMzone.
Come and enjoy a thoroughly enteraining night of live music.
Tickets are now on sale via  www.officialtoptennight.com/events-1/listen-up-britain-london-semi-final 
#tottn #topten #listenup #listenupbritain #makealistmakeadifference
/